Africa's Educational Leader in Medicinal Cannabinoids
About Afrileaf?
AfriLeaf Biosciences was founded in 2019 with the vision to be "Africa's Educational Leader in Medicinal Cannabinoids." Our team, led by North American industry experts, believes it is vital for the Nigerian public and private sectors to have access to the latest education, science, and research.
News
AfriLeaf
Follow AfriLeaf exclusive publications and receive information about Africa's path to becoming the epicentre of attention as medicinal cannabinoids replaces traditional economic drivers. This path will highlight opportunities for economic growth, job development, scientific breakthroughs, and regulatory reform.

See more

Nigeria
Important news regarding decriminalization of cannabinoid-containing plants, regulatory changes, and projected socioeconomic impacts of medicinal cannabinoids in Nigeria can be found here. A very close look at changing policies, key advocates of the movement, and long-term implications are reviewed in this section.

See more

Africa
News about the decriminalization and legalization process for medicinal cannabinoids across the continent are aggregated and commented on by the AfriLeaf Team in this section. From Zimbabwe to Morocco, some regions of the continent have already begun making impressive and exemplary headway into this space.
Global
As the leader for information and guidance supporting the medicinal cannabinoid movement in Africa, AfriLeaf presents an unbiased and factual look into the policies, procedures, successes, and failures of countries outside of Africa who have made the move toward legalization. Here, AfriLeaf presents a chronicling of lessons learned from other countries, specifically those in North America and Europe.

See more

Conference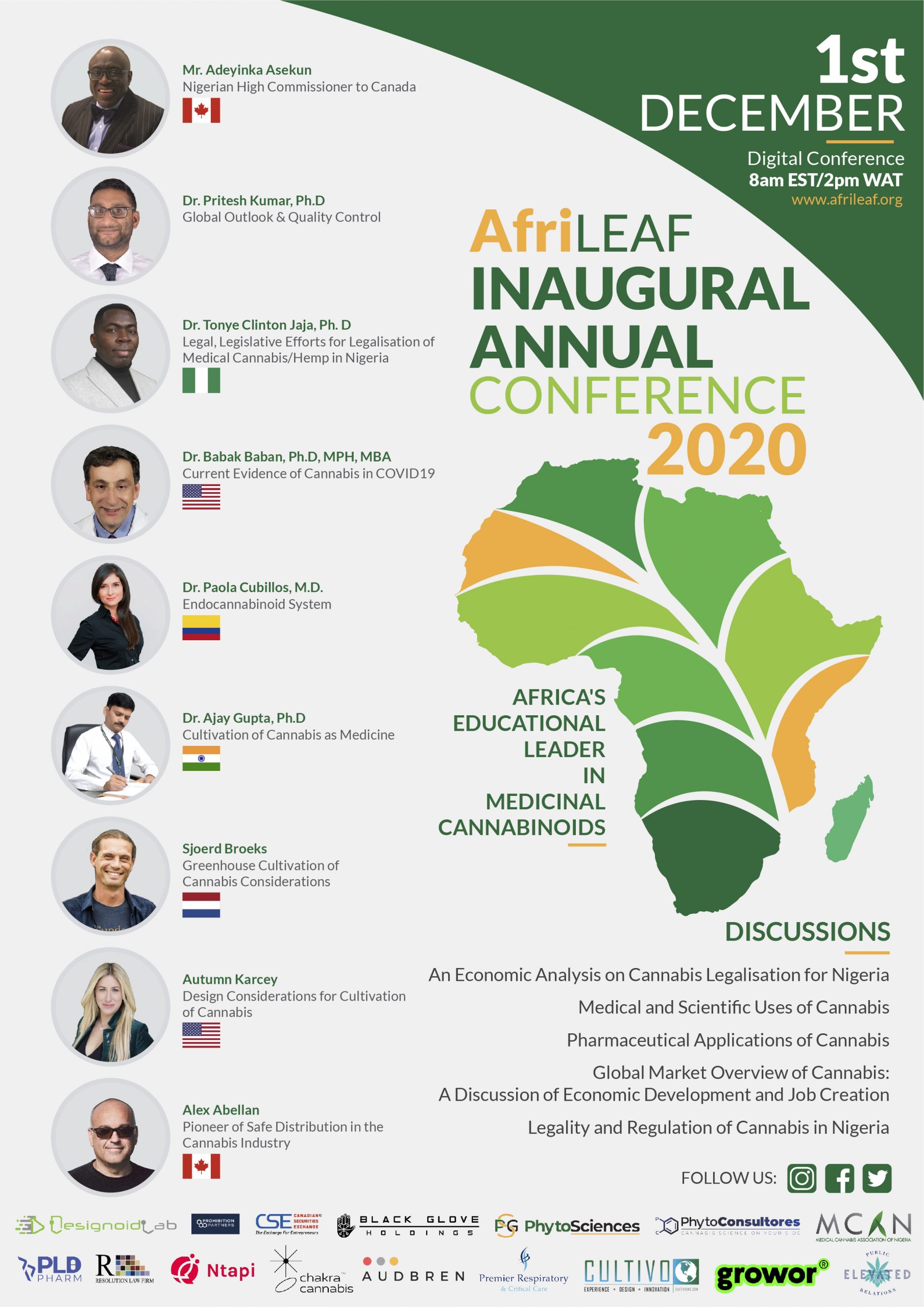 Africa's Educational Leader in Medicinal Cannabinoids
1st december 2020. digital conference
Inaugural Annual

Conference

Address
1099 Kingston Road,
Pickering, Ontario, Canada
L1V 1B5
info@afrileaf.org
Social